Going on a cruise is a very popular way to travel especially for families and retirees, and more recently, for travelers of all ages who just what to kick back and really take a good break. It is a very laid back holiday option, mainly because you don't have to worry about transport, or booking your hotel, or finding any good restaurants in the area. EVERYTHING is already sorted for you.
When we booked our trip, we didn't really know what to expect, all we knew was that we were travelling to Fiji on a ship. While on the trip we created a list of helpful tips when going on a P&O cruise. Some of which we wish we knew before checking-in.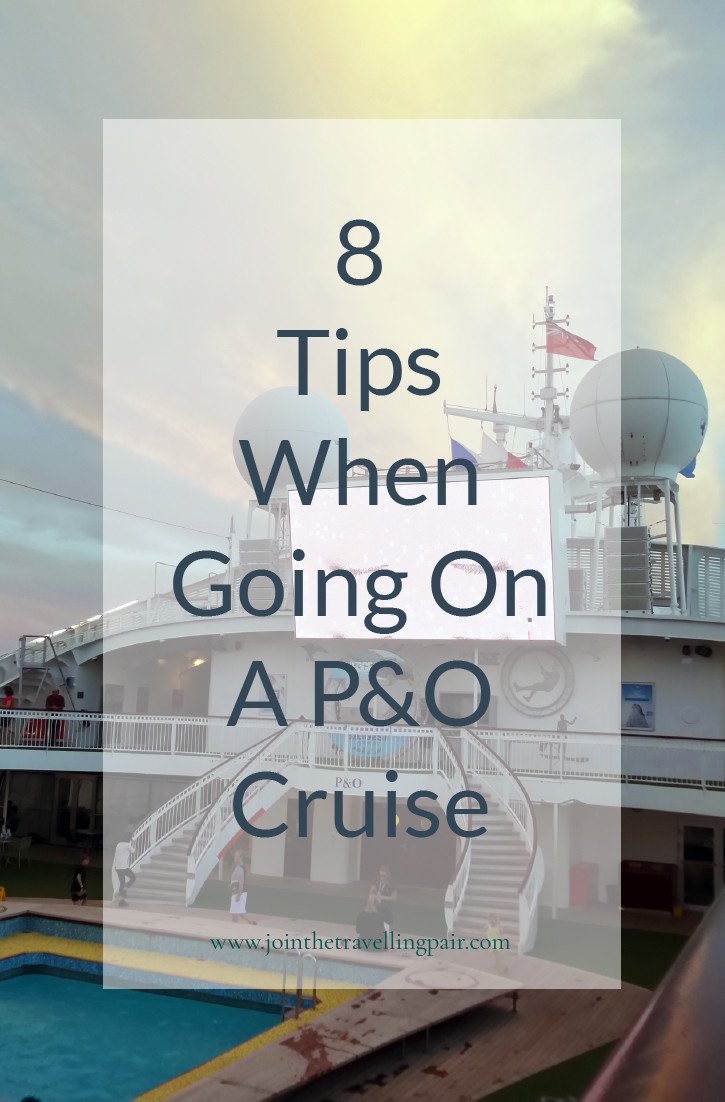 Cruise Tip #1: Bring a LANYARD
As mentioned in the P&O Cruise: What to Expect blog post, you will be given a cruise card which you will be using for the duration of the trip. You then have an option to purchase a lanyard once you enter the ship, from memory it costs approximately 7.00 AUD per lanyard. However, if you booked the cruise through a travel agent, your agent might give you one prior to the trip. Thus, it is a good idea to bring your own; you get to save 7.00 AUD per person which you can use in purchasing other souvenirs or even food and drinks.
Cruise Tip #2: Bring a collapsible laundry basket or a large bag and some laundry powder
If you are travelling on a cruise for more than 4 days, it might be a good idea to bring a collapsible laundry basket alongside some laundry powder since there is a launderette available on board. There are available baskets on the ship but they are limited. As for the washing powder, you are able to purchase a small sachet for 1 or 2 AUD.
Cruise Tip #3: Take advantage of the allowed number of canned drinks
Each passenger can bring 12 canned drinks (maximum) which should be loosely packed in your hand-carry luggage. This will save you a good amount of money (cocktails cost around 13 AUD each) especially if you didn't sign-up for any of the drinks packages.
Cruise Tip #4: Don't bring beach towels
Beach towels are very bulky and take a lot of precious baggage space and the cruise provides an unlimited supply. Furthermore, if you use the ship's towels you don't have to worry about laundering sand covered towels.
Cruise Tip #5: Be prepared to disconnect.
The cruise offers internet access at a very expensive price, so unless you're willing to pay anywhere between 19 AUD to 99 AUD for unstable internet, make sure you are prepared to disconnect. It will be a good time to catch-up on that book that you've started reading ages ago or maybe just connect with friends or family on the ship. Remember, there is a whole other world outside the internet. Pro Tip: Bring your Kindle.
Cruise Tip #6: The best SPA DEALS are offered in the last day at sea
During our trip we were incredibly tempted book massages but we had to weigh our priorities and our budget. On the 3rd day, we started to receive flyers from Elemis Spa about their current promotions. It wasn't until the last day at sea that we gave in. We paid 99 for a 50-minute Swedish massage which normally costs 149. It isn't a huge discount and we did hesitate, but it was a decision that we didn't regret. The massage therapists were one of the best that we've encountered.
Cruise Tip #7: Bring Anti-seasickness tablets
Regardless of whether you think you need it or not, it is always handy to keep some in your bag. These anti-seasickness tablets are very helpful especially during sea days when the waters are rough and you can literally feel the massive ship rocking back and forth (this happened during the last 24 hours of our journey).
Cruise Tip #8: Buy TRAVEL INSURANCE
Just like any other trip, you must always remember to purchase travel insurance. This is not optional. Remember that you will be cruising on the open ocean for days at a time, if you get sick or injured, you have no other option but be treated by nurses and doctors on board, and it will not be cheap. The value of an insurance policy will always outweigh the cost in cases like these.
"All journeys have secret destinations of which the traveller is unaware."
Martin Buber