This post has been updated last December 29, 2018.
A staple part of our Saturdates are desserts, not just any dessert, the perfectly crafted, artistically presented, and conveniently located in the heart of the city desserts. Because of our fondness for sweet treats, we have made a list of the best dessert places/ bars (in no particular order) that we have tried in Auckland.
Miann has three locations; one along Fort Street, another inside the Arthur Nathan Building close to the Britomart Transport Centre, and the third is at Morningside. This dessert place offers a wide array of options including gateaux, gelato sticks, gelato cakes, macarons, and chocolate bonbons. The prices range between $2.80 to $12.00. If you visit the Fort Street branch, you'll also be able to order beautifully plated desserts from their A la Carte Menu. And although these dishes tend to be on the pricey end, the flavors are just impeccable. They design their food in a way that you'll really be able discern the subtle differences in the flavors infused in their desserts. Our personal favorites are the macarons because the description on the display cards are really what you'll get, not just a standard sweet macaron, but a flavorful one as well.
Fort Street Branch
57 Fort Street, Auckland 
Opening Times:
Monday closed
Tues – Thurs 12pm – 10pm
Fri – Sat 12pm – 11pm
Sunday 12pm – 10pm
Britomart Branch
Ground Level
Arthur Nathan Building
36 – 38 Galway Street
Auckland
Opening Times:
Mon – Thurs 8am – 10pm
Friday 8am – 11pm
Saturday 10am – 11pm
Sunday 10am – 10pm
Morningside Branch
12 McDonald Street
Morningside
Opening Times:
Monday/Tuesday 8am to 5pm
Wednesday to Saturday 8am to 10pm
Sunday 8am to 7pm
Milse is almost Miann's twin. Their menu consists of very similar heavenly options which we credit to the fact that the chef, Brian Campbell, who established Milse, is the same person who owns Miann. But although the presentations may be similar, the flavors are remarkably different (based on the desserts that we've tried).  The prices range from $2.50 to $8.00 (not including the full-sized cakes which start at $35).
The dessert bar is located at Tyler Street in Britomart. It's quite a tricky place to find especially if you are new to the area. From the Britomart train station, just follow Tyler Street and it should be on your right hand side.

Location: 31 Tyler Street, Britomart, Auckland
Opening Times: Everyday | 10am until late
3. Giapo - Haute Ice Cream
Giapo is not your typical ice cream shop. Upon entering the shop, you'll notice that the ice cream tubs aren't on display and the only way for you to choose a flavor is through the help of an ice cream concierge. They will assist you through the taste testing process. Giapo mainly encourages their customers to make a decision based on what they've tasted, rather than seeing what's on display. The price range is between $8.00 to $25.00 depending on how many scoops and on whether you prefer your ice cream to be served in a cup, regular cone, or deluxe cone. After you've made your choice, all you have to do is to wait for the beautifully presented ice cream. Our personal favorites are On My Way to Kerikeri and Christchurch Hazelnut. Take note that the flavors do change with the season, another reason to visit Giapo more often.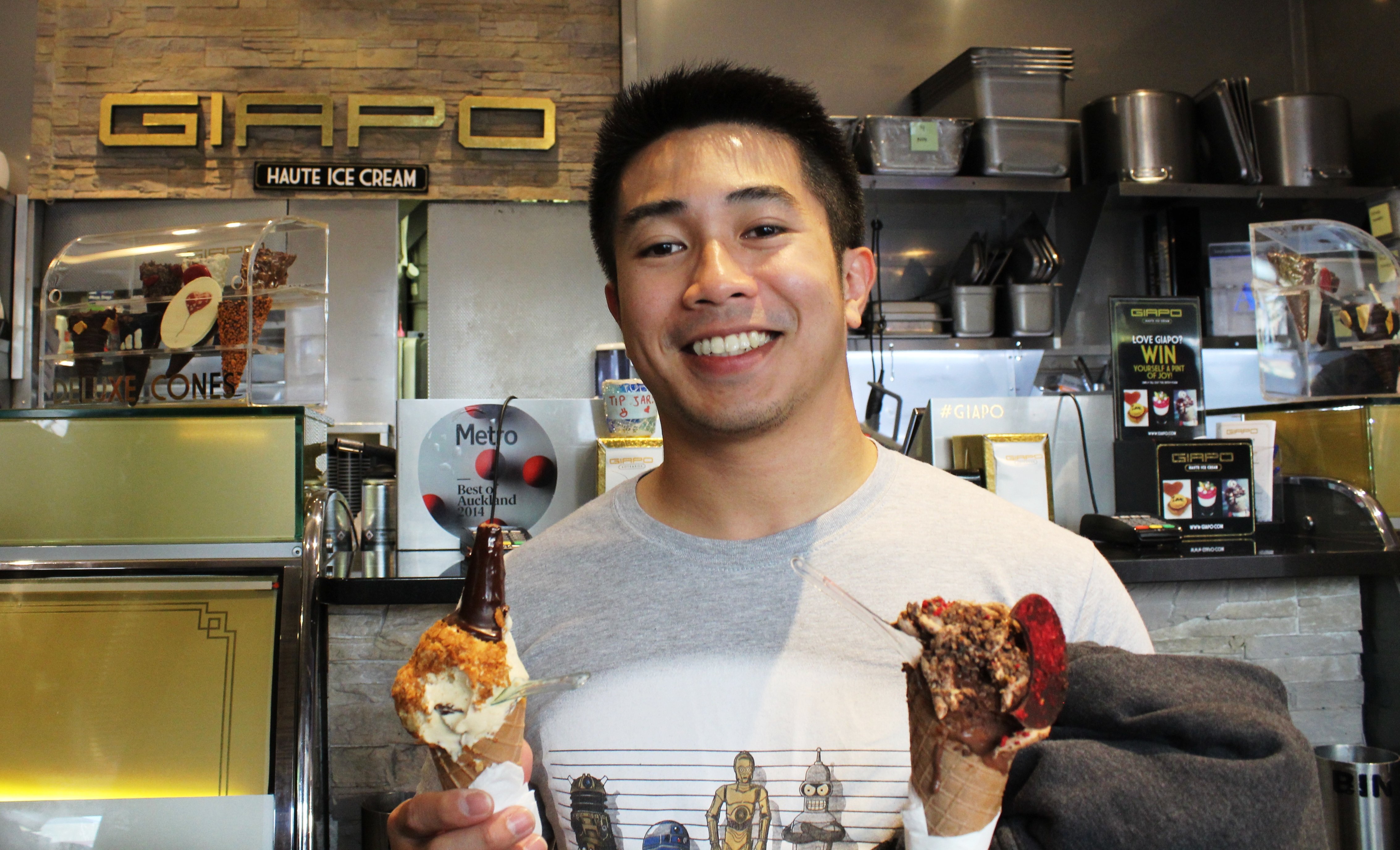 Location: 12 Gore Street, Auckland
Opening Times:
Sunday to Thursday 12:15pm to 10:30pm
Friday and Saturday 12:25pm to 11:30pm
Cupcakes are now being sold almost anywhere, but the cupcakes from Petal just stand out. The cake, the icing, the flavors and the textures just form a perfect combination (need I say more?), this is also why we had cupcakes instead of the traditional cake for our wedding.
If you are keen to try these cupcakes you can purchase them at their Newmarket or Takapuna shop. You can also find them in various events around Auckland like the Taste of Auckland, and the Auckland Coffee Festival. If you prefer to go to their shop, make sure that you go early because cupcakes get sold out very quickly (that's how good they are! 🙂 ).
Location: 8 Teed St., Newmarket | 106 Hurtsmere Road, Takapuna
Opening Times:
Monday to Friday – 9:00 am to 5:00 pm
Saturday – 9:30 am to 5:00 pm
Sunday – 9:30 am to 4:00 pm