New Zealand's south island is a sought-after tourist destination because of the scenery, activities, and food, to name a few. In this blog, we will be talking about the transportation options when travelling to (and from) two of the well-known towns in the South Island, Queenstown and Wanaka.
Wanaka is a resort town located on the southern end of Lake Wanaka. From Queenstown, the travel time is anywhere between 60 to 90 minutes and is dependent on your mode of transportation and the route that you'll take.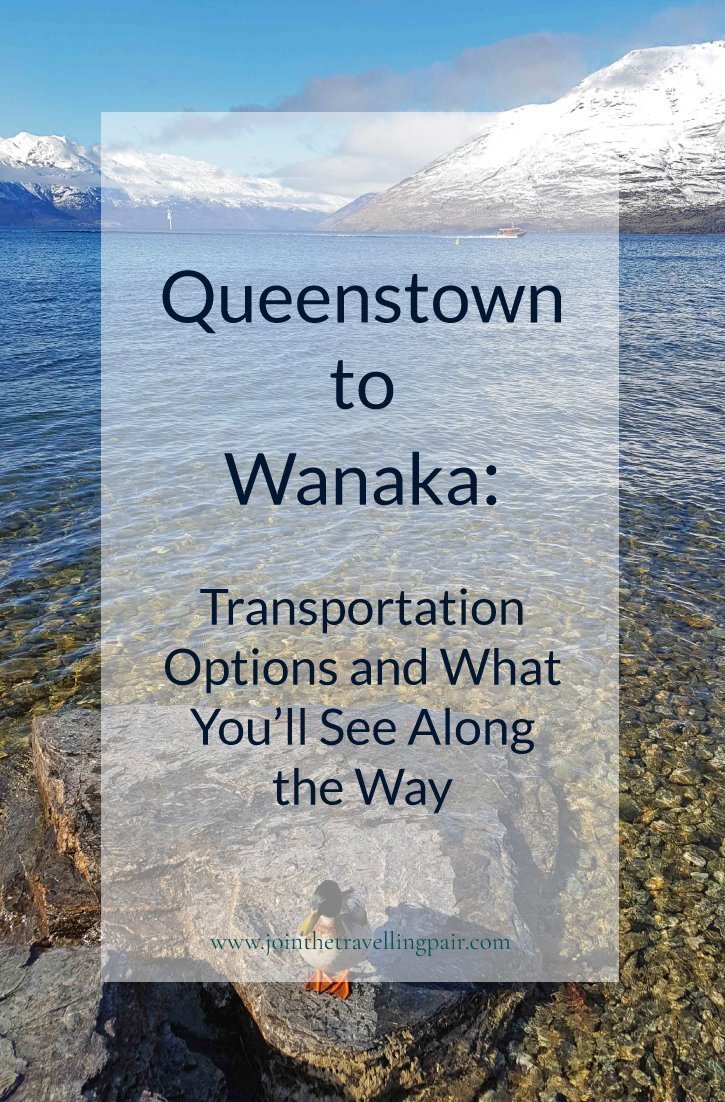 Routes from Queenstown to Wanaka (vice versa)
1. Via the Crown Range Road
The Crown Range Road is a steep and windy road known as the highest main road in New Zealand. In normal conditions, this route allows you to get to Wanaka in approximately 60 minutes. During winter the road may be covered in snow and ice so be advised that you are required to bring a set of snow chains for your car and that you know how to fit them. If you are unsure about driving on an icy road, you can take the longer route via Cromwell.
The road leading to and from Wanaka via Cromwell is longer but is less windy and less challenging. The travel time is approximately 90 minutes.
Queenstown to Wanaka (vice versa) Transportation Options
Self driving is a common way of exploring New Zealand. There are numerous car rental companies that offer a variety of vehicles, from compact cars to fully-equipped camper vans, depending on your travel needs.
Regardless of the vehicle that you choose to drive, please remember that you need to KEEP LEFT when driving in New Zealand. If you are not confident with your driving skills, the next transportation option might fit you best.
There are two lines that can take you from Queenstown to Wanaka (vice versa), Ritchies and Intercity. If decide to take the bus, the total travel time can be anywhere between two to three hours, definitely longer than the self-drive option. Also, the buses take Cromwell route.
The travel times, pick-up locations, and fare prices listed below are current as of March 1, 2019.
Ritchies offers transfers from Queenstown to Wanaka, and vice versa.
If you are travelling from Queenstown to Wanaka, the current departure times are as follows:
Queenstown (Camp Street, outside the I-Site Building): 8:15 am, 11:00 am, 1:30 pm, and 4:30 pm
Queenstown Airport: 8:30 am, 11:15 am, 1:45 pm, and 4:45 pm
From Wanaka to Queenstown, the current departure times are as follows:
Wanaka (Lakefront bus park, 100 Ardmore Street) 8:00 am, 10:30 am, 1:30 pm, and 4:00 pm
The regular fare costs $30 one-way and $55 return (for an adult, $20 one-way and $35 return (for a child).
Intercity, like Ritchies, also offers transfers to and from Queenstown and Wanaka. However, there is only one departure time per day per location. From Queenstown, the bus departs at 8:00 am from Athol Street (in the middle of the carpark). From Wanaka, the bus departs at 10:00 am from 100 Ardmore Street (Log Cabin on Lakefront).

Attractions When Traveling from Queenstown to Wanaka (vice versa)
When driving via the Crown Range Road you'll notice that there are designated viewing areas as you drive up. An example is the Arrow Junction Lookout Point, it allows you to park and appreciate the aerial view of Queenstown. If time permits, you can also hike the Rock Peak Track from the Crown Saddle car park.
Another attraction along the way is Cardrona. Take a photo of the Cardrona Hotel, one of New Zealand's iconic and oldest hotels, or head to Cardrona Alpine Resort for some outdoor fun.
If you are taking the Cromwell route, make sure to have a designated driver who won't be tempted by the inviting selection of wines offered by New Zealand's finest wineries.
Wine tasting options are available in the various wineries including Brennan Wines, Peregrine, and Chard Farm. If you are a group of travelers who are split between wine and beer fans, then head to Cargo Brewery at Waitiri Creek; make sure to try their Baked Brie with your drink selection.
As you continue driving through State Highway 6, you'll also drive past the Roaring Meg Hydro Scheme which are power stations fed by the Roaring Meg Dam. You can park at the designated area to get a good view of both the dam and the Kawarau River. You'll also pass by the Goldfields Mining Centre where you'll learn more about New Zealand's mining history.
When you arrive in Cromwell, you can continue your wine tour or head to the Highlands Motorsport and Tourism Park and take part in attractions like Go Karting around the 650 meters track, riding on a Highlands Taxi which is a Porsche Cayenne Turbo, or trying the Supercar Fast Dash in a Ferrari 488 GTB.
Exploring Queenstown, Wanaka, and all the towns in between is going to be amazing. But always remember that in order to make your trip much more memorable, always plan ahead.