Local food is always a vital focus on our trips, that's why we always make it a point to eat and to embrace traditional cuisine when we travel. We tend to shy away from the common cafes and fast food chains that can be found in almost every corner of the world because let's be honest, the Grande Caramel Macchiato or the Cheeseburger Value Meal doesn't really taste that different in other countries.
Our visit to Kyoto and Osaka in Japan gave culinary experience a whole new meaning. For it involved not only mouth-watering dishes and finely crafted beverages, but also a deeper understanding of the Japanese food culture.
It was midday when we arrived in Osaka so we were definitely ready to eat our first meal in the land of the rising sun. We were originally after some ramen, but because were starving and could not read a single character on the menu, we ended up with an Udon meal instead. And although it wasn't what we were originally after, it definitely didn't disappoint! The noodles were perfectly cooked, the broth vibrant and deep, and even the side dishes were amazing!
Did you know that in most restaurants, guests are provided with wet towels (a.k.a Oshibori) to clean their hands with?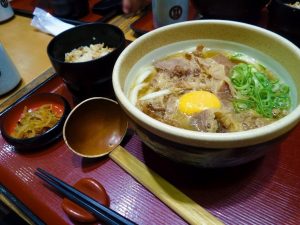 Did you know that it is a common practice for everyone on the table to wait for all the food to be served before anyone can start eating? And that the Japanese start every meal by saying "Itadakimasu" which means "I humbly receive"?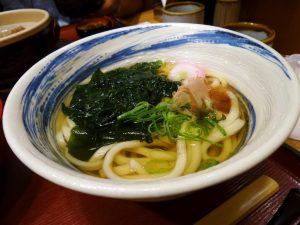 After a 90 minute train ride, we finally arrived in Kyoto and our accommodation for the week. And it wasn't long until we had to re-fill our hungry bellies. Our Airbnb accommodation was luckily close to several food shops, including shops that sell sweets like daifuku and monaka, a ramen restaurant called Hiwamatanoboru, and a number of street food stalls at the Fushimi Inari Shrine.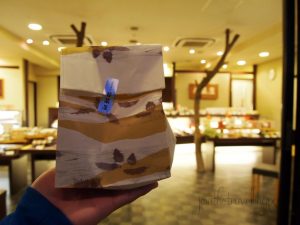 Goodies from the sweet shop.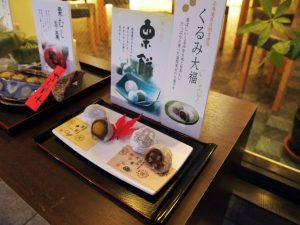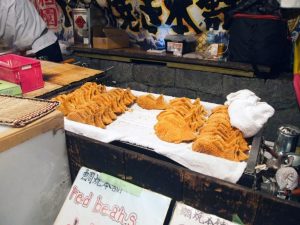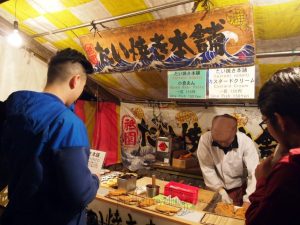 And of course, we couldn't wait to devour a scrumptious bowl of ramen at Hiwamatanoboru for dinner. It is a self-service ramen restaurant wherein you have to place and pay for your order using the vending machine at the shop entrance. You will then pass the receipt to the waitstaff who will also show you to your table. The restaurant was packed,  and for good reason–their ramen was fantastic! It was authentic, luscious, and a fitting meal to end to a tiring day of traveling.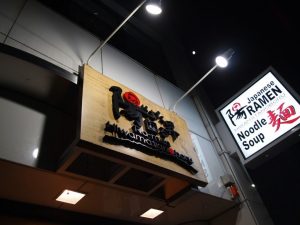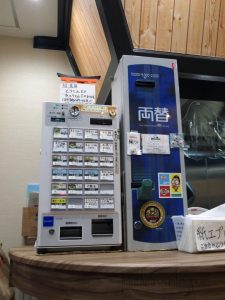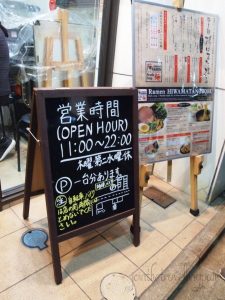 Did you know that when you are eating a noodle dish, the slurping sound that you make means that you are actually enjoying your meal?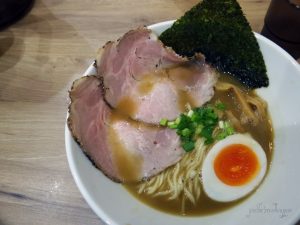 For the next six days, there definitely was no shortage of good food, especially Japanese street food; and because we lived so close to the Fushimi Inari Shrine (Fushimi Inari Taisha), it became our regular breakfast stop before exploring the sights and sounds of Kyoto and Osaka. The price range was between ¥150 to ¥500. We were able to try a variety of delicacies like Takoyaki, Okonomiyaki, and many more!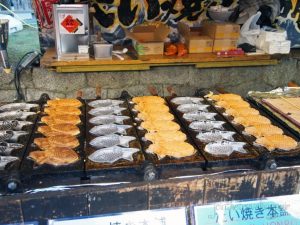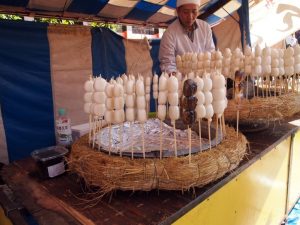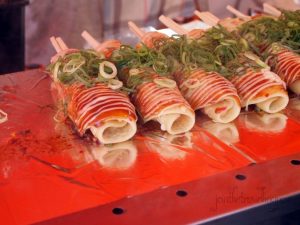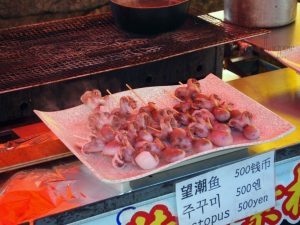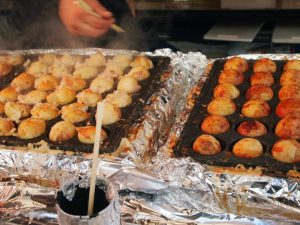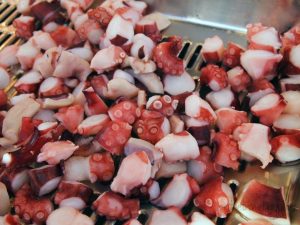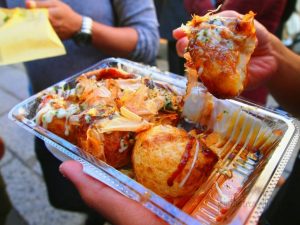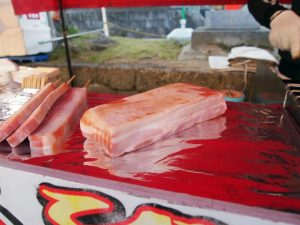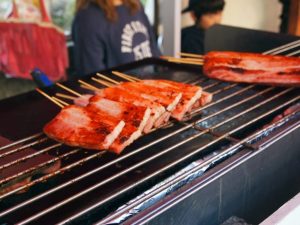 Aside from the street foods, we were also able to try some restaurants offering Kushikatsu (aka Kushiage) and Yakiniku. Kushikatsu is a Japanese cooking style that involves different meats and vegetables prepared on skewers and then deep-fried. The restaurant that we went to was called Kushimaru and it is located in the Tempozan Marketplace which is just beside the Osaka Aquarium. It costs ¥1580 per person and you get unlimited food for 70 minutes (yes, there was a time limit!). Diners also get to cook the food themselves, right on a special frying appliance built into their tables.
Yakiniku, on the other hand, basically means grilled meat; it is very similar to Korean barbecue wherein you are given a variety of raw meat (depending on what you order) and then you will cook them on the grill provided (usually prepared in the middle of the dining table). The Yakiniku restaurant (we cannot remember the name, it was somewhere in Gion, Kyoto) that we went to definitely offered a good variety of meat and the flavors were really impressive, the only downside was that it was too expensive and the serving size was not reasonable. We paid around ¥1500 per person for food only and unfortunately, most of us were still hungry when we left the restaurant.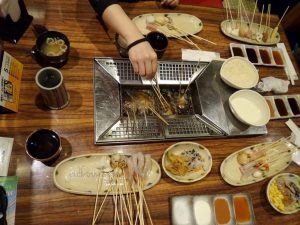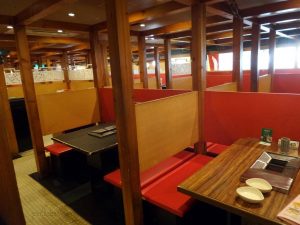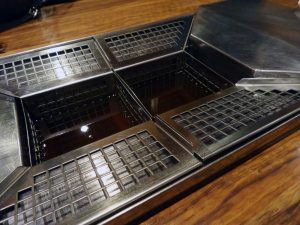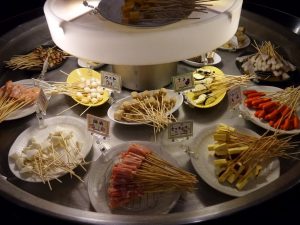 Moving on to bento style meals, something which the Japanese are famous for. It's a complete meal consisting of various elements, usually rice, miso soup, meat, and side dishes (usually different vegetables and pickles). The average price of a very good bento meal is about ¥1300, it is a bit pricey but often worth it if you find the good ones. Based on our experience, all the restaurants that we have tried definitely delivered. But Katsugyu Pontocho Honten is what we would recommend especially if you are after a perfect beef cutlet meal (which includes Wagyu beef).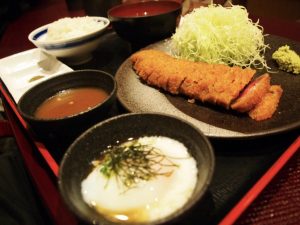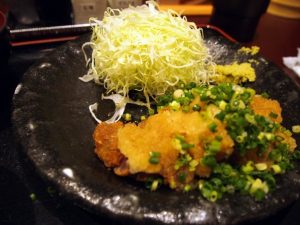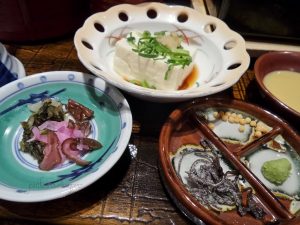 Did you know that after eating, it is a good table manner to return everything to the same way it looked at the beginning of your meal? Which means putting the covers on the bowl/s and all other utensils back to their original position.
Sushi train restaurants are also a must-try if you are in Japan. The different types of sushi are arranged in small color-coded plates which determine their price. They are then placed on a conveyor belt that goes around the restaurant and customers can simply pick a plate of sushi that they want. These restaurants are often very busy so expect to wait in line for a few minutes before you get a seat.
Japanese desserts are also amongst those that you wouldn't want to miss. You will never run out of options because everywhere you go, you'll see beautifully presented sweets such as ice cream, different flavored mochi, intricately designed rice cakes, and so much more. You will also see an abundance in matcha flavored desserts because of its recent popularity, so do make sure to try one when you visit Japan.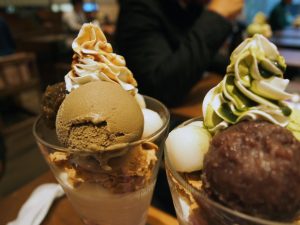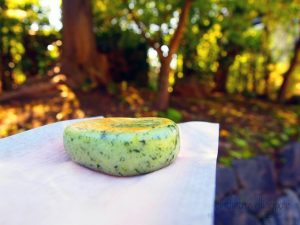 Japanese beer and chips to cap off our tiring yet fun day of exploring Kyoto and Osaka.